After that you've developed the best company page or personal profile in your industry on LinkedIn, it's time to promote it. After all, you want people to think of you or your business when they need to buy something or take advantage of services you provide.
Here are some ways to spread the word about your LinkedIn presence:
Add a link to your email signature
If you aren't already using a professional email signature for business communications, you should be. Many of these signatures include a headshot, along with company and position, address, and phone. However, yours should also include a link to your website and social media buttons. Every communication you send out from your business email is an invitation for people to check out the business social media accounts, and it's important that you capitalize on it.
My favorite email signature generator is called WiseStamp. There are free as well as paid plans, both for individuals and teams. Here are some examples: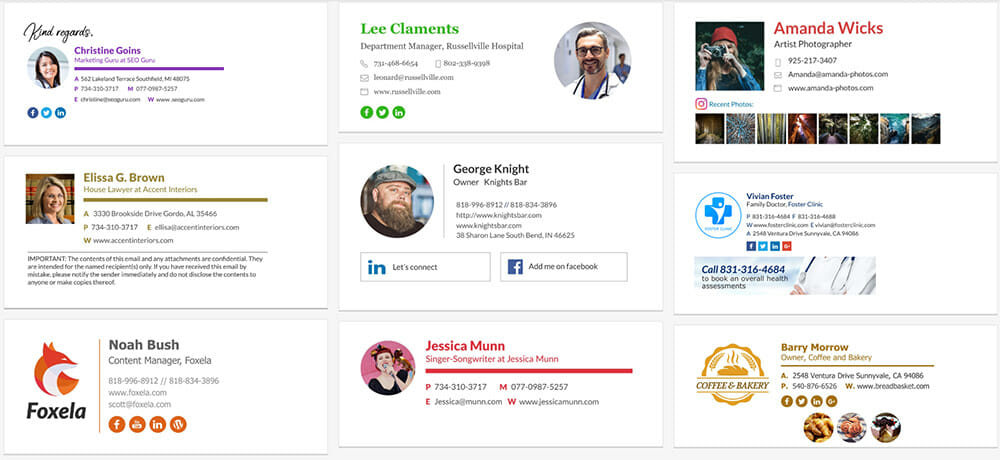 Include a LinkedIn icon and share button on your website
No matter how simple your website is, it needs to include social sharing tools. For LinkedIn, this includes an icon and a share button. LinkedIn icons include an embedded hyperlink to your business page. If you're a solopreneur, then the icon could be a link to your personal page. Likewise, share buttons provide visitors to your website an easy way to share any of your content on LinkedIn. Keep in mind that the easier you make visits and sharing, the more you're likely to get.
Remind people to connect / follow company in email marketing
In addition to having an email signature that includes a LinkedIn icon, marketing emails should include a call to action. One thing I recommend is inviting people to follow your business page or connect with your personal page. This way, your marketing efforts will not only generate sales but also increase engagement on LinkedIn. Remember, if people engage with your company on LinkedIn, there's a chance you'll be discovered by members of their network.
Consider LinkedIn Ads to drive traffic and increase brand awareness
LinkedIn ads are expensive when compared to Facebook or Twitter, but if you're promoting a high ticket product or service to another organization or wealthy consumer, the targeting options that LinkedIn provides you in their ad platform might provide your business much higher ROI.
Similar to how other ads platforms works, LinkedIn provides you a dashboard and guides you in the ad creation process as you see below: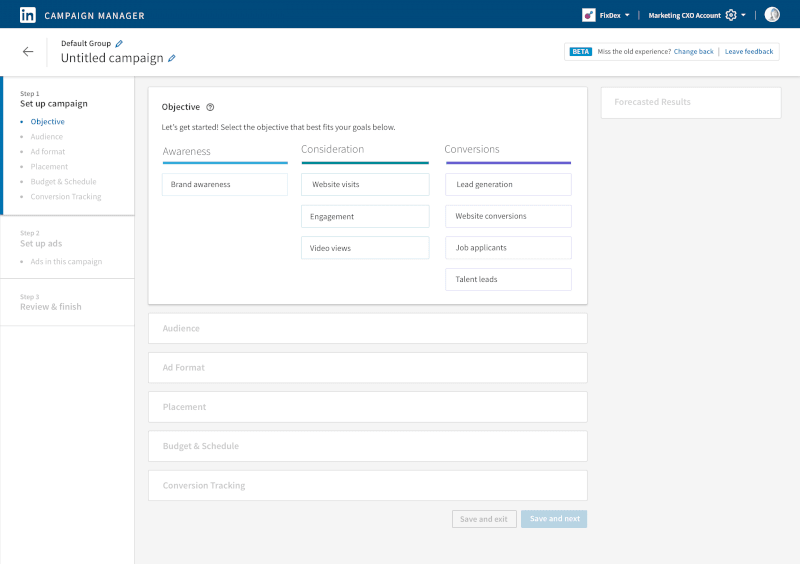 What is exciting is that, because we enter more professional information here than on any other social network, we can target people on LinkedIn based on what company they work at, where they graduated from, and even their interests and traits.
For those involved in B2B sales and marketing and you know the exact job titles of your target audience, LinkedIn allows you to target those specific people and will even recommend you similar titles from their database to ensure that you target a broad reach!
Upload your LinkedIn connections to create a Facebook Custom Audience
With this technique, the aim is to target your LinkedIn connections on another social network where they are probably more active and where advertising is generally less expensive: Facebook. What Facebook does is take the connections list you've uploaded, and finds the Facebook user profiles that match. Using that information, you'll be able to advertise to this segment of your audience on the Facebook platform, giving you more opportunities than you have on LinkedIn alone.
Recently I have found that merely downloading your LinkedIn connections does not give you access to their email addresses, so if you're looking for a service that can help append your LinkedIn connections with an email address, check out a data appending tool such as PhantomBuster for help.