If you're following our blog, you've already built up an awesome profile, gotten people to follow along, and are engaging through content across LinkedIn, it's time to prospect. While you can use some of the techniques below for job hunting, I'm mainly concerned here with the sales and marketing sectors. Here are some best practices.
Learn how to use Advanced Search to connect with potential clients
Searching LinkedIn for clients can seem like a daunting task at first. Run a search for "marketing," and you'll get over 52 million results. That's about 7.5% of ALL LinkedIn members. Clearly, this isn't an efficient way to find people.
Instead of banging your head against a wall searching through irrelevant search returns, try using the advanced filters. For instance, you might be looking for someone within a particular geographic location. Or, you might need someone who has a given job title. Whatever it is, be as specific as possible and use the following filters that LinkedIn gives every member: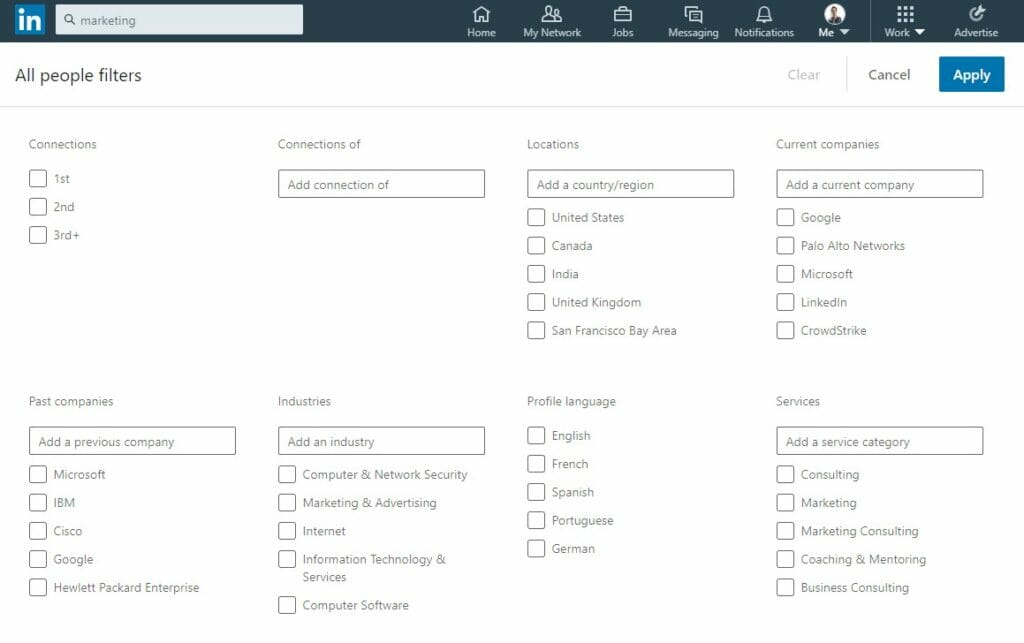 Consider first following and engaging with their content
If you've been following our blog long enough, there's a chance you've seen this advice before. Once you've found someone you're interested in pitching, don't go straight to the sales pitch. Doing so will make you seem like you're only interested in the next sale, and it's a good way to get rejected (people hate cold calling, believe me). Instead, demonstrate you're interested in who that person is and what they have to say.
Accomplishing this task takes time. First, follow their profile (instead of sending them an invite to connect) on LinkedIn. This will allow the things they post to show up on your feed and give you the opportunity to see what they have to say. Next, engage with their content. This doesn't have to take a lot of time: just post an emoji reaction, or if you really like a post, share it. When you have something to add, consider a comment. Before long, your prospect will become aware of your interest. This will warm them up to your connection request.
Be careful about connecting
One of the ways LinkedIn regulates its platform is by placing limits on who you can connect with. For that reason, I recommend that you only connect with someone if you have several mutual connections. While this might seem counterintuitive for a sales professional, it's one of the better ways to make sure you don't have your account restricted. LinkedIn is pretty strict about people who send a bunch of random invites that get ignored, and the biggest reason is to limit spam. By only connecting when you have lots of mutual connections, while there is still a chance that you get reported. you're limiting the risk to your account.
Personalize your invite
Do you enjoy random invitations? Many people don't. That's why you shouldn't send people you find yourself on LinkedIn a form invite. Doing that makes people think you're just sending out a bunch of invites to try and see who responds and make a sale. Not only is this likely to get you restricted, but it's unlikely to be successful.
Instead of setting yourself up for invite failure, take a few minutes to show some common courtesy. A personalized invite should not only include your prospect's name, but something that either identifies the fact that you've spent the time to read their profile and demonstrates specific interest. For instance, you might say "Phillip, I saw you speak at Social Media Marketing World this year and loved your talk," This kind of invite is much more compelling and shows that it's personalized.
If you are trying to send out invites that include generalized information such as [Company Name] [Location] [Industry Name] [Job Title] as part of your invite text, LinkedIn users can now see through that you are going to probably spam them and won't accept your invite. Even if they do accept and you are able to message them, they will end up blocking you and reporting you to LinkedIn.
Don't go straight to the pitch
So let's say you followed my advice and someone accepted your invite request. Just because someone accepted your connection invite doesn't mean it's time to try and sell something. Instead, keep engaging with their content like you did before. You've only just built a relationship with this person, so you don't want to make it look like you're only interested in selling. Rather, you should invest in this newfound professional connection. My recommendation is that you do this for at least a month before you reach out in your sales role. After all, building rapport is an important part of the sales process, right? Besides which you're more likely to be successful if you treat the prospect with respect.
After that, it's all about how you use the information from that person's profile, their content, and how they responded to you when you engaged with them to find a topic to break the ice with them and start a private conversation.