In order to maximize your company's exposure on LinkedIn, every sales and marketing employee that represents your business needs to have a LinkedIn profile.
Every employee representing your company that is on LinkedIn increases the chances that your company will indirectly be found, and the more connected your employees are to others (including each other), the easier it will be for those wanting to contact any of your company employees to do so through the LinkedIn profile.
• Social media extends well beyond the sales and marketing departments thanks to the evolution of social business.
• Companies are finally realizing that their employees are a huge untapped source of brand advocates.
• Social media usage by professionals has become mainstream.
Regardless of what department you're in, it's becoming more likely that you can use LinkedIn as part of your job. Understanding the holistic value that LinkedIn offers businesses is really the first LinkedIn skill that every professional should possess.
As companies have become more involved with LinkedIn, so have individual users. Not only are more professionals now on social media, they are also consuming more information fed to them by their networks and sharing more information to their networks. Companies can take advantage of this trend by having employees share their brand message. After all, Edelman's Trust Barometer reminds us that "Employees rank higher in public trust than a firm's PR department, CEO, or Founder."
Whether you're receiving internal training on LinkedIn or merely want to better utilize LinkedIn to meet your professional objectives, you'll be glad to know that LinkedIn can help in several ways.
Consider this graphic: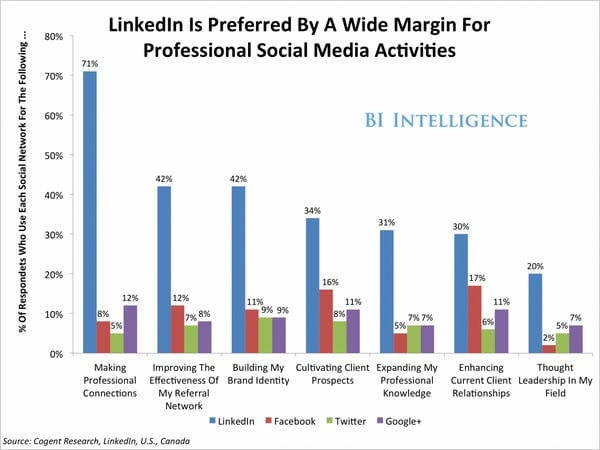 The conclusion is clear: LinkedIn is preferred by professionals for every single professional social media activity measured, and most professionals have a compelling reason to log on somewhat regularly. Here are the major ways businesses and professionals leverage the power of LinkedIn today:
Recruiting
While this blog is geared towards sales and marketing professionals, it is important to make note that recruiting is still the number one way in which companies leverage LinkedIn. However, once you analyze and re-engineer the recruiting process on LinkedIn, you can see how the same concepts and principles apply to sales and marketing on LinkedIn.
Recruiting is one of the oldest, and still one of the most important, uses of LinkedIn. As the old saying goes, when finding a job it often isn't what you know, but who you know. This plays out two major ways on LinkedIn. First, a jobseeker can find out who in his network works where. Because many people we knew as kids, or went to college with, or perhaps move in social circles with, are often part of our LinkedIn networks as well, it's easy to find out if we have a connection at a particular company. That's in addition to leveraging LinkedIn connections that are purely professional. From these "leads," we may be able to find someone who's hiring or talk our way into a friend's company.
The other way that recruiting on LinkedIn works is with recruiters. Both corporate HR recruiters and so-called headhunters spend hours on LinkedIn. They'll post jobs, search professionals in certain industries, and reach out in other ways as well. One efficient way to try and get a job is to intentionally get yourself noticed by a recruiter. And remember, they're trying to get noticed, as well.
Sales / Social Selling
Networking on LinkedIn is highly useful for sales and social selling, as well. As with recruiting, it's one of the oldest and most important uses of the network in business. Arguably, this is one of the better tools in a sales professional's toolkit, especially when selling to businesses. Here's how it could work: a software sales representative is looking for potential buyers in the civil engineering field. So, he or she will look for the buying decisionmakers in engineering firms, infrastructure contractors, and public works departments. These buyers might be found in his own network, through people he knows, or using LinkedIn searches. With the people identified and contact information acquired, he's able to make a sales pitch.
In a less direct approach, someone in sales can use LinkedIn to get to know people in an industry. He or she might attend trade shows, conferences, and other events, and add new contacts to his LinkedIn professional network. Although these people might not be the decisionmakers, networking with them on LinkedIn might turn up more sales leads. Then, when the time comes, he might be able to depend on the mutual contact to reach out to this prospect.
Marketing
Since sales and marketing go hand-in-hand, it's not surprising that LinkedIn is a valuable tool in the marketer's shed. There are a few different ways that marketers use LinkedIn. First, the simple presence of a company and its leadership on LinkedIn is highly useful: it gives potential consumers and investors a picture of corporate values and personality. Another thig that marketers can do is carry the corporate branding through a company page.
However, the two biggest uses of LinkedIn for marketers are content and paid social. Through publishing content on LinkedIn, either through your Company Page or personal profile, you can influence decision makers and buyers into learning more about your product or service and hopefully converting them. Second, paid social is especially valuable on LinkedIn. One reason for this is that there are better targeting tools, but they also allow something called InMail and sponsored messaging. These go to particular users who might be interested in a product or service.
Employee Advocacy
One of the biggest advantages employees have over corporate executives and PR departments when delivering messages about the company is their comparative credibility. The thinking behind this is simple: people at the top are always going to paint a rosy picture about a company, even if it isn't deserved. On the other hand, employees know what things are really like on the production floor. And, if a company makes great products and treats employees like royalty, they'll be happy to brag. Public surveys also always remind us that people trust people like themselves or employees than businesses, their executives, and their PR/marketing.
As a result, companies are increasingly using their employees as brand advocates. Smart companies will encourage employees to have a LinkedIn account and talk about their jobs. This puts a human face on a company, and gives potential customers, employees, and investors more good reasons to choose a particular company for their needs.
Thought Leadership
For many higher-level professionals, leadership in their industry is essential to further advancement in their careers. Bank executives want to be seen as financial experts, department store owners to be on top of retail trends, and consultants current in their field of expertise. My own example is current knowledge of digital and social media marketing trends. Leaders often express their mastery through posting on LinkedIn. Sometimes, they'll even operate a blog. No matter the approach, however, LinkedIn is increasingly the place to find thought leadership in any industry.
It's time to rethink your view of LinkedIn, so you can take full advantage of it. The following chapters explore the features that LinkedIn provides to every free account member, to enable you to achieve all your objectives for using the site.